"Naughty Cheerleader"
aka "How did a nice girl like you get into this business?"
Inter / Rialto Films, 1972.
Something Weird Video, 1994.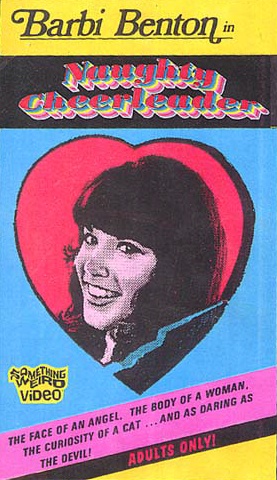 Adorable Barbi Benton plays Lynn Keefe, a smalltown girl from Scranton who is as dumb as she is sexy. After being seducted (on a motorcycle) by her dream boy Nick, she falls "in love" and thinks he is going to marry her, but instead she gets knocked up and ditched. She leaves town, becomes a waitress, miscarries the baby and ends up in Boston (she screws an old sea captain for a hundred bucks on the bus). Lynn manages to find trouble wherever she goes; She witnesses an attempted murder, sleeps with gangsters, and participates in blackmailing a record D.J. After she gets the boot from her partners in crime, Lynn drives to Miami and meets Carlos. He hires her for $3,000 a day to impersonate Miss Luxembourg and sleep with men who will pay for the privilege of having sex with a beauty queen. When the scam is uncovered, Carlos and Lynn go to Italy, and she has sex with all these men who are supposed to be film producers, while Carlos collects money for her services. Lynn meets Gino on the "set" of a film, and they fall in love. His family disinherits him when they get married. Gino gambles their money away, and both happily resign themselves to selling their bodies to financially survive.

This video does not contain any pornographic material or nudity, and is unrated.
Barbara Benton
Klaus Kinski
Hampton Fancher
Clyde Ventura
Produced by Horst Wendlandt
Written and directed by Will Tremper
First released on Nov 30, 1974, in Italy.
Transferred to video from a 35mm print.